Building, Projecting and Protecting
Africa Youth Growth Foundation is a non governmental organization set up with the sole purpose of contributing to positive change in the economic and social status of Africans, the poor, vulnerable and minorities through effective programs that delivers sustainable outcomes.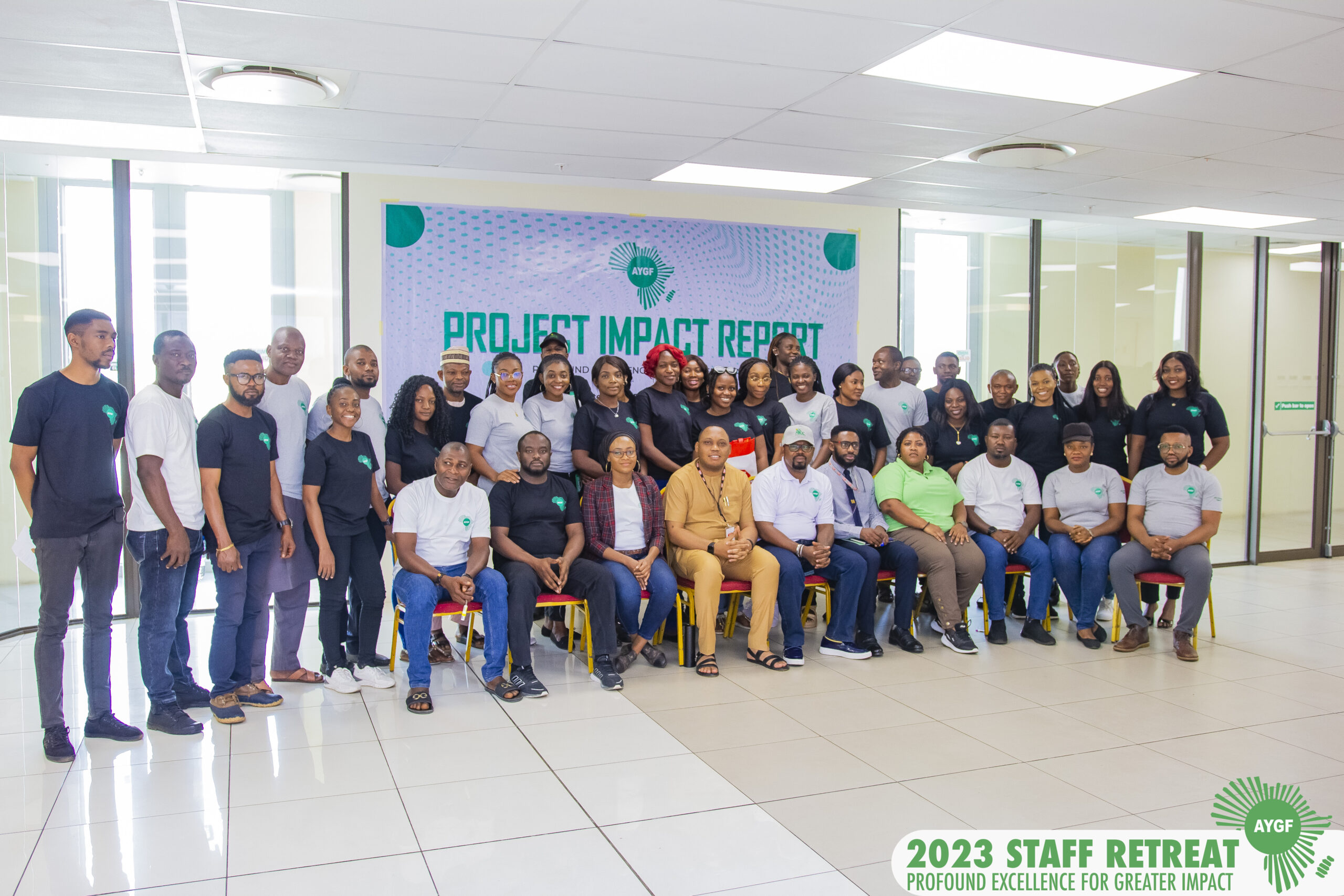 AYGF just concluded her 5-day 2023 retreat that began on the 23rd January, to 27th of January, 2023. The Theme of the Retreat was Strengthening Internal Capacity and Strategizing for Excellence AYGF's 2023 Retreat kick started with the Executive Director's enlightening discussion session where he expounded the theme for the year 2023; Profound Excellence for Greater Impact The Retreat was packed with staff capacity building sessions that were facilitated by dignitaries with vast experience in the Development Sector such as; the Country Director Care International--Dr Hussaini Abdu, PhD, the Senior Manager overseeing Resource Mobilization & Partnership, Care International--Mr Chigozie Igwe, the Country Director, Christian Aid--Mr Temitope Fashola, the Country Director, Catholic Agency for Overseas Development---Mr Kelechi Emeh, Mr James Gadin, Mr Innocent Philip, Ms Petra Moulokwu, to mention but a few. The Retreat also presented Staff with an opportunity to bond as a team and also critically think together, as we internally reviewed the AYGF 5-Year Strategic Plan Document.
PRESS CONFERENCE ON ASUU/FG FACEOFF RESOLUTION
The Executive Director of AYGF in the person of Dr Arome Salifu delivered an all encompassing speech on the topic "ASUU/FG FACE OFF RESOLUTION" he appealed to both ASUU and the Federal Government to do whatever it takes to see that the ongoing strike is brought to an end.

T

he press conference commenced at about 11:00am Nigerian time at AYGF board room where he spoke of the adverse effect of the strike on our educational sector and overall advancement as a country. He assured the general public of the organization's support to students who are victims of the ongoing confrontation and declared an open door policy to all those grossly affected. The conference had in attendance popular and diverse media organizations such as AIT, Radio Nigeria-FRCN, N.T.A, Arise Tv, Daily Trust to mention but a few. The press conference lasted for about an hour with a question and answer session and exclusive interviews with the different media organizations present. Reports on the conference were aired to the public by various media organizations present to reassure Nigerians that all non-state actors, AYGF in particular, will not rest until we have triumphed as a nation.



No. 4 Ouagadougou Street, Wuse Zone 2, Abuja, Nigeria